Can I Improve My Abs With Tummy Tuck Surgery?
Tummy tuck surgery is still thought of as a cosmetic procedure mostly sought out by women.
Its ability to tighten and rejuvenate the abdominal area has helped countless women regain their confidence, especially after childbirth.
But now, men are swiftly realizing the benefits that this cosmetic surgery can offer for them as well.
Tummy tuck surgery is emerging as a popular new way for men to define their masculine contours.
This number continues to grow by the year.
For some men, tummy tuck surgery may be the last step they need to get the washboard abs and sculpted body they've always wanted.
WHAT IS A TUMMY TUCK?
---
Known formally as abdominoplasty, tummy tuck surgery addresses the abdomen area and removes extra fat and excess skin and tightens the muscles as needed.
Tummy tuck surgery can:
Remove loose skin due to weight fluctuations
Help define abdominal muscles
Create a flat, smooth stomach area
Restore weak or separated abdominal muscles
Define the waist and lower abdomen area
Help restore body contours
Candidates for tummy tuck surgery include people from all walks of life.
Patients who have reached their target weight but are still unsatisfied with how their stomach looks—such as men working on their body goals— are particularly good candidates.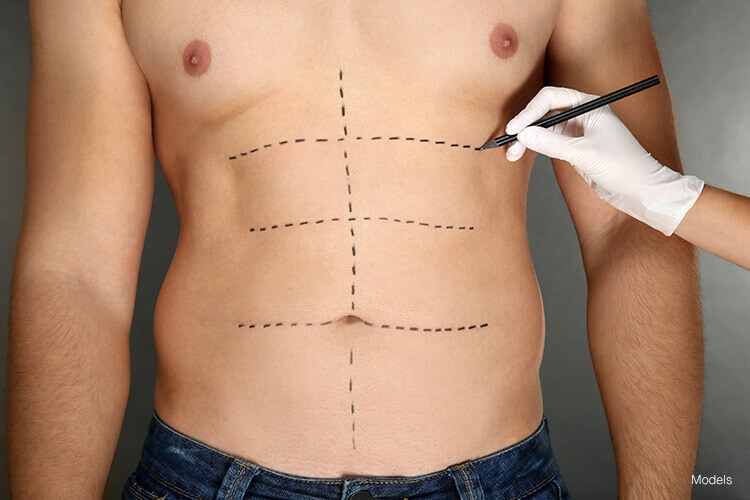 HOW IS A TUMMY TUCK PERFORMED?
Tummy tuck surgery typically starts with a horizontal incision along the abdomen, between the belly button and pubic region.
This incision allows surgeons to lift the skin, remove fat, and repair the entire area.
Incisions can vary in length based on how much skin or fat has to be removed.
The entire surgery can take from one to four hours to complete. Anesthesia is required.
RESULTS AND RECOVERY
Rest is crucial as patients recover from tummy tuck surgery, especially in the first few days.
There will be swelling, bruising, or other signs of discomfort for most patients. Patients may be prescribed pain medication to manage symptoms.
After about two weeks, most patients are able to return to work. A full return to previous activities will generally take about six weeks.
The positive results from a tummy tuck will start to show as the body heals, but it can still take about one year for body contours to completely adjust.
While some visible scarring is inevitable, patients should avoid sun exposure to keep scarring at a minimum. Dr. Mesbahi also takes care to ensure incisions are easy to conceal.
HOW CAN MEN USE TUMMY TUCK SURGERY?
---
For men, tummy tuck surgery is especially useful to help define a key part of a sculpted physique.
Having a toned, defined "core" is integral in making sure body contours fit as seamlessly as possible for a lean, attractive look.
Improve Definition: Men may struggle with getting rid of stubborn pockets of abdominal fat that diet and exercise just don't seem to touch. Tummy tuck surgery helps remove this fat and tighten skin and tissues to achieve a "ripped" look.
Set Better Body Contours: Tummy tuck surgery can be used as a part of other body contouring procedures, such as liposuction, to form the body shape men desire.
Remove Loose Skin: Sometimes, weight loss leaves skin loose and stretchy, keeping men from reaching the defined abs they want.
Tummy tuck surgery removes extra skin and tightens the stomach to get a leaner, defined appearance.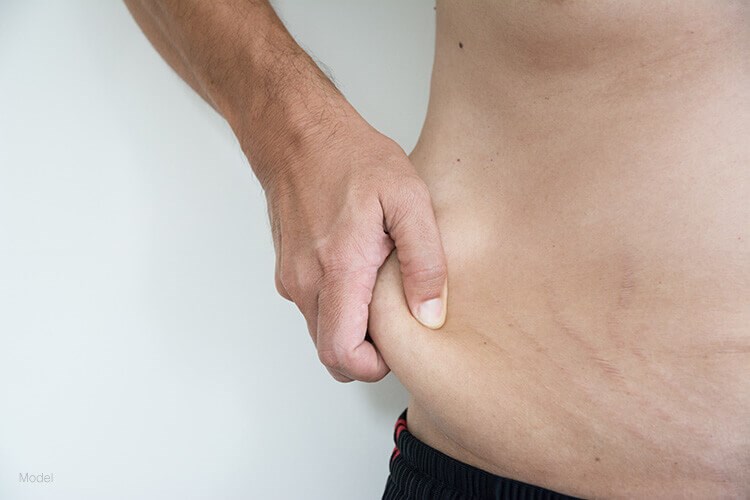 HAVE MORE QUESTIONS?
---
Ready to discuss what tummy tuck surgery may do for you? Schedule a consultation with Dr. Mesbahi!