Vectra 3D Imaging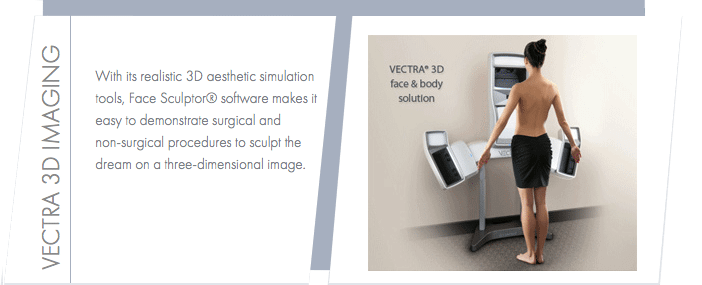 What will I look like?
Mesbahi Plastic Surgery is pleased to be one of the few practices in the Washington, D.C. area offering Vectra 3D imaging for our patients. Now, the anxiety of wondering what your nose, breasts, face, or body could look like after surgery is drastically reduced!
Photographs are taken and digitally enhanced to a 3D format that will allow you to watch your image be morphed before your very own eyes.
Measurements and important anatomical landmarks are evaluated to create a realistic 3D image of yourself. Dr. Mesbahi will then sit side-by-side with you as you work together to achieve your desired appearance. Now you don't have to imagine what a smaller, more refined nose will look like when you can see the morphed image from every angle! Our database also has implant information for every major company, allowing us to show you what your breasts could look like with the implant size and shape of your choice.
This advanced technology with multiple rotating views allows Dr. Mesbahi to more accurately predict what your result may be like and allow you to examine the desired result. Together, you will come to an agreement on the final desired appearance, which allows Dr. Mesbahi to know your expectations and make you feel more comfortable about your decision!
Communicate the possibilities. Engage in a streamlined, persuasive consultation as you view the three-dimensional image from any angle, zoom in for a closer look, superimpose the simulation over the pre-op, compare side-by-side, or fade between the two.