How Can I Make My Face Look Younger?
Looking good can be a challenge. The effects of time can be brutal, leading millions to seek cosmetic surgeries, injectables, and other forms of rejuvenation—sometimes all at once.
Dr. Mesbahi offers his patients several years of cosmetic surgery expertise and a wide variety of options to address signs of aging in the face.
These procedures can be combined to address a specific area of the face or for longer-lasting results.
FACELIFT AND NECK LIFT
---
The gold standard when it comes to fighting the effects of aging, a facelift helps to smooth and tighten facial contours.
Facelift surgery is typically combined with a neck lift, which targets sagging skin along the jawline and neck area.
Dr. Mesbahi performs facelift surgery by using small incisions along the hairline, temples, and behind the ears, specifically placed to remain as inconspicuous as possible.
Facial muscles are pulled tight while excess skin and fat are removed.
With a neck lift, the incision is made underneath the chin, and Dr. Mesbahi may use liposuction to remove excess fat along the jawline before the neck muscles are pulled tighter.
General anesthesia is typically used during these procedures.
There will be swelling for about two weeks after surgery, and patients will need to keep their head elevated during that time.
Most people can go back to work after two weeks and should be well on their way to recovery after a month of recovery.
BLEPHAROPLASTY
---
Sometimes referred to as an eyelid lift, blepharoplasty specifically targets wrinkles and drooping skin along the eyes for a younger, brighter look.
Upper blepharoplasty:
Targets and corrects sagging or drooping upper eyelids.
Uses incisions created along the upper eyelid to remove and reposition muscles.
Corrects wrinkles and brightens the eye area.
Lower blepharoplasty:
Correct bags, dark circles, and puffiness under the eyes.
Incisions made either within the eyelid or just below the lower lash line.
Similar to a facelift and neck lift, blepharoplasty recovery will take several weeks.
Patients will experience swelling, especially in the period right after surgery, but symptoms usually subside quickly enough for most people to go back to work after two weeks.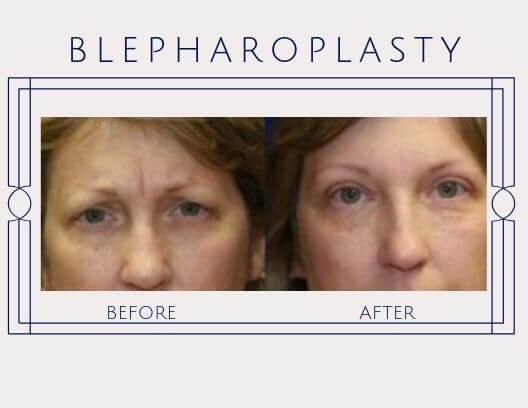 LASER SKIN REJUVENATION
---
This procedure is a powerful, yet non-invasive way to address aging concerns, leaving behind skin that immediately looks and feels younger.
It uses lasers to ablate or destroy the outer layers of skin, removing years of damage, age, and other defects.
Laser skin resurfacing can:
Reduce wrinkles and creases
Remove dark age or sun spots
Decrease scars or other skin defects
Tighten loose skin
Most patients are candidates for laser rejuvenation. Dr. Mesbahi will usually cleanse the skin with oils before performing the procedure using an anesthetic to minimize any discomfort.
There may be some swelling and skin will be irritated right after the procedure. Recovery depends on the size of the area treated, but downtime is typically minimal.
BOTOX® COSMETIC
---
One of the most popular rejuvenation methods available, BOTOX® Cosmetic is a particularly effective treatment for the deep creases that often form along the forehead, between the brows, and around the eyes.
This non-surgical injectable uses the natural botulinum toxin type A, a neuromodulator that temporarily paralyzes muscle movement.
This helps to immediately smooth out deep creases in the skin but also inhibits the development of future fine lines and wrinkles.
BOTOX® Cosmetic treatments can be completed in about twenty minutes, and there is no need for anesthesia or any other preparation.
There's also little to no downtime, and results are almost immediately apparent. Smoother skin is obvious after the very first injection.
Repeated treatments are necessary to ensure the best long-term results.
HOW TO CHOOSE WHICH PROCEDURE IS BEST FOR YOUR FACE
---
UPPER FACE AND EYE AREA
A traditional facelift will help reduce some of the wrinkles and creases that form along the upper face and eye area. Laser skin resurfacing is also effective at smoothing out creases along the forehead and brows.
Blepharoplasty is one of the best surgical methods to correct wrinkles and remove sagging skin around the eyes.
Patients looking for less invasive measures to combat aging in the upper face and eyes can use BOTOX® Cosmetic. This injectable smooths out creases in this area and also prevents future wrinkles from occurring, making it an attractive option for younger patients.
GENERAL FACIAL AREA, MID-FACE, AND CHEEKS
There's nothing that goes quite as deep as a traditional facelift procedure does when it comes to lifting, smoothing, and tightening facial contours.
Facelift surgery is particularly effective in removing excess or sagging skin, literally lifting years off the face.
Some patients experience a severe loss of volume in the cheeks as collagen production slows, causing skin to grow thinner and weaker.
A facelift can help restore some of the lost volume by redraping tissues to better fill facial contours.
Laser skin resurfacing or other laser treatments are also effective for patients who don't want surgery. Laser skin resurfacing can help erase wrinkles, age spots, sun damage, and tighten loose skin.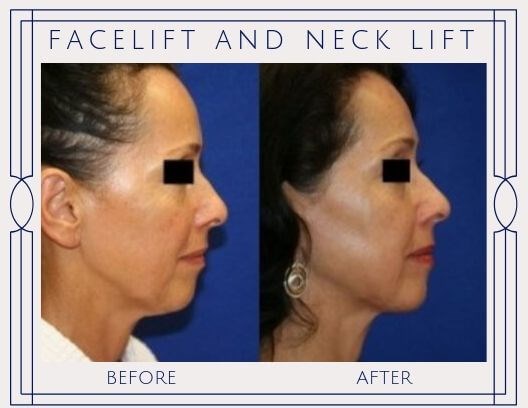 LOWER FACE, JAWLINE, AND NECK
A facelift combined with a neck lift is one of the best methods to remove the sagging skin that often develops along the lower face and jaw areas. These two procedures help craft smoother overall contours along the face, neckline, and collar for a more youthful, refreshed look.
A neck lift may be performed by itself if a patient needs it, but the procedures are almost always combined for the best overall outcome.
Patients who want to avoid surgery may also use laser rejuvenation treatments to tighten loose skin. Laser rejuvenation is particularly effective in removing fatty deposits that tend to develop along the neck and jawline.
Would you like to learn more? Schedule a consultation with Dr. Mesbahi