How To Choose The Best Breast Augmentation Method
Millions of women seek out breast augmentation surgery every year, and their general goal is the same: getting beautiful, voluptuous breasts.
Sounds simple enough, right?
Breast augmentation, however, can be as varied as the women who choose to have it performed.
Some women are simply looking for a little extra lift after childbirth or age has taken their toll.
Others want a more natural look, while others want to be noticed everywhere they go.
Women now have more options than ever when it comes to customizing their breast augmentation.
From implant sizes, shapes, and where they're placed, Dr. Mesbahi offers women a large variety to help them achieve their appearance goals.
HOW BREAST AUGMENTATION SURGERY WORKS
---
Breast augmentation surgery is designed to enhance the breasts by using implants to increase volume, breast shape, and size, creating fuller breasts.
Breast augmentation surgery is typically performed by using incisions to insert implants, either under or over the chest muscle.
The type of incision and implant can vary based on what women want to achieve. Dr. Mesbahi offers three different incision options:
Underarm (transaxillary) incision: The incision runs along the natural crease of the underarm. An endoscope is then used to insert the implant. This method leaves no visible scars on the breasts.
Areola (Periareolar) incision: This method typically allows surgeons better control over where the implant is placed, and scarring is hidden around the border of the areola.
Breast fold (Inframammary) incision: The incision is done on the underside of the breast, where it meets the chest. This method also makes it easier to place implants, and scars are usually hidden by the natural breast fold.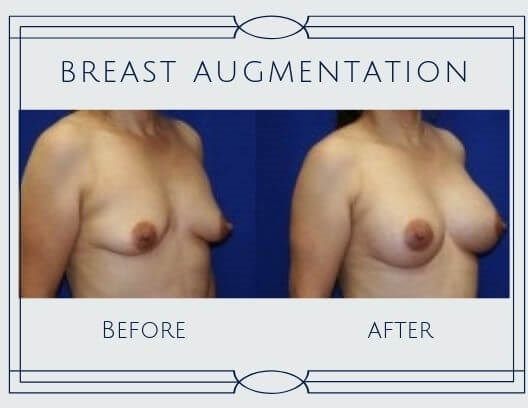 WHAT IS A BREAST LIFT?
Breast lift surgery will not change the size of your breasts, but it can significantly help raise their profile by tightening breast tissues that have begun to sag. But it can also be combined with breast augmentation if needed to increase the size of the bust.
SILICONE AND SALINE: WHAT TYPE OF IMPLANT IS BEST?
Silicone implants are implants filled with a silicone gel. These types of implants tend to feel more like natural breasts, as the gel mimics the feel of natural breast tissue. Silicone implants tend to be sturdier than others, and are more likely to retain their shape in case of a leak.
Saline breast implants are implants that are filled with a saline solution, or sterile saltwater. These implants are used to provide more firmness and more uniformity in breast shape.
Both silicone and saline implants are safe to use and approved by the FDA.
Choosing between silicone and saline implants may simply be a matter of preference, both for women and their surgeons, who may prefer a certain type of implant.
IMPLANT SHAPE, SIZE, AND TEXTURE
The shape, size, and texture of a breast implant also have a huge impact on how breasts look after surgery is completed. There are several types of implants available:
Gummy bear breast implants: These are silicone implants that are filled with a thicker type of silicone gel than others, ensuring they keep their shape even if a leak occurs. They're also firmer than other types of breast implants.
Round breast implants: These implants are the same circular shape all over, and can be filled with silicone or saline. Round breast implants make breasts appear fuller than gummy bear implants, and there's less risk of them rotating or shifting out of place.
Smooth breast implants: Arguably the most natural-feeling implants, these implants have a smooth surface that can move with the rest of the breast tissue, mimicking the natural movement.
Textured breast implants: These types of implants have a unique textured surface that causes scar tissue to develop and stick to the implant, making them less likely to shift around.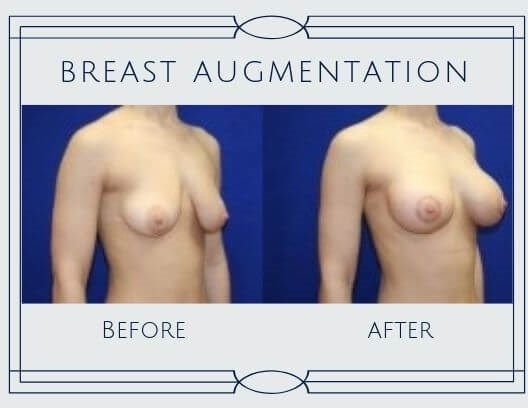 HOW IMPLANT PLACEMENT AFFECTS BREAST APPEARANCE
---
Choosing a certain implant is one thing—but deciding where it is placed is equally as important.
Typically, breast implants can be placed either under the chest muscle (submuscular) or over the muscle (subglandular).
SUBGLANDULAR AND SUBMUSCULAR PLACEMENT
In a subglandular placement, surgeons will place the implant over the pectoral, or chest muscles, right beneath the breast tissue. Subglandular placement is great for patients who want noticeable cleavage, as this placement means the implant is more visible.
Submuscular placement means the implant is inserted beneath the chest muscle and breast tissue. This tends to provide more stability as the implant is kept in place by both the chest muscles and breast tissue. Submuscular placement also decreases the risks of the implant showing or being felt through the breast.
COMBINING IMPLANT TYPES AND PLACEMENTS
Women can choose a certain type of implant and implant placement to achieve a certain look.
For example, a subglandular round implant placement will visibly increase volume and breast projection, making breasts immediately appear larger and voluminous.
Women who want firmer breasts could benefit from gummy bear implants or textured implants with submuscular placement.
Both these implants are thicker, ensuring breasts stay firm, and placing them under the muscle decreases the risk of implants shifting or moving around.
Submuscular placement is best suited for women seeking natural-looking enhancement.
The implants are less likely to be seen through the breast tissue, and there's less breast projection than with subglandular placement.
WANT MORE INFORMATION?
---
Are you thinking about undergoing breast augmentation surgery? Learn more by scheduling a consultation with Dr. Mesbahi.