Post-Surgery: Skin Reconstruction After Skin Cancer Removal
A cancer diagnosis is often devastating, especially when the removal of cancer will result in noticeable disfigurement. Some forms of skin cancer on the face (depending on the size) can significantly change a person's appearance, and this is a significant concern for most people.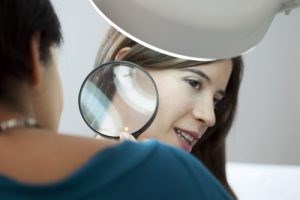 Dr. Mesbahi works closely with Mohs surgeons during skin cancer removal to ensure minimal changes to the patient's aesthetic and a natural-looking final result. However, the results will depend on several factors, including your skin's ability to heal.
WHO IS A CANDIDATE?
---
Those who have recurrent skin cancer, skin cancer that covers a large area, or facial skin cancer in sensitive areas (like the ears, lips, nose, and eyelids) are likely candidates for surgery coordinated between a Mohs surgeon and Dr. Mesbahi. Both steps of the procedure can be performed within one day or on consecutive days. The first step is the cancer removal by the Mohs surgeon, and the second step is reconstructive surgery performed by Dr. Mesbahi.
HOW IS THE PROCEDURE PERFORMED?
---
Reconstructive surgery after cancer treatment can involve many different methods depending on the type of cancer, its location, and the patient's desires. Dr. Mesbahi can use local tissue rearrangement, skin grafts, or complex skin, bone, or cartilage transfer to achieve the desired result. Dr. Mesbahi knows how to assess the delicate balance between making sure your new look is functional and aesthetically pleasing.
HOW MUCH DOES IT COST?
---
As with all surgeries, the cost of your reconstruction procedure will vary depending on various factors, such as:
Surgeon's fees
Anesthesia costs
Facility fees
Luckily, most insurance plans cover skin cancer surgeries, which includes removal, reconstruction, and other procedures that may be necessary due to complications. Contact your insurance provider to find out your coverage options.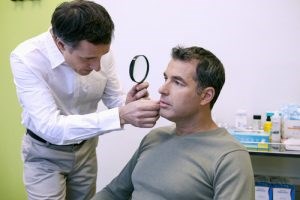 HOW LONG WILL IT TAKE TO RECOVER?
---
The time it takes to recover from your reconstruction surgery will vary depending on the size of the area that had to be removed. It will also depend on your body's healing abilities. You should expect your incision sites to be red and sore. Your doctor will give you instructions on wound care, and it is important to follow these instructions carefully to ensure proper healing. You may be prescribed pain medication or antibiotics. Scars may take time to fade. You should limit your sun exposure and be sure to wear sunscreen as this will help the scars heal and prevent more skin cancers from developing.
WHY CHOOSE DR. MESBAHI?
---
After completing his six-year residency, Dr. Mesbahi was selected to pursue advanced training at a prestigious fellowship program for microvascular surgery and cancer reconstruction at the Memorial Sloan Kettering Cancer Center in New York City. Dr. Mesbahi is a specialist in the area of cancer reconstruction and provides results that conceal scars and minimize significant changes to your appearance.
If you have been diagnosed with skin cancer and would like to learn about your options for removal and reconstruction, contact our office schedule a consultation.