What Were The Most Popular Plastic Surgery Procedures of 2018?
There were more than 17 million cosmetic procedures performed in 2018, according to a report from the American Society of Plastic Surgeons.
The majority of these procedures were minimally invasive treatments like BOTOX® Cosmetic, chemical peels, and JUVÉDERM®, but surgical procedures like breast augmentation and liposuction saw an increase in popularity from the year prior.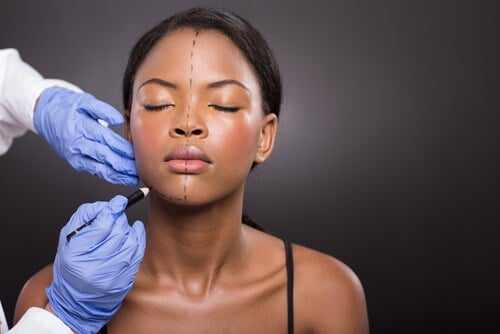 So, what were the most popular cosmetic surgical and non-invasive procedures of 2018?
SURGICAL PROCEDURES
---
BREAST AUGMENTATION
Breast augmentation is designed to increase the size and improve the shape of a woman's bust. This procedure is considered when a woman is unhappy with their current body type, but it can also be performed in combination with other procedures as part of a Mommy Makeover after the effects of pregnancy and childbirth have taken a toll on a woman's physique.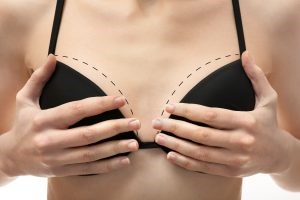 This procedure saw a 4 percent increase in popularity from 2017 to 2018, bringing the total number of patients to receive this surgery to 313,735. Out of those patients, 88 percent opted for silicone implants, while the other 12 percent chose to go with saline.
LIPOSUCTION
By using a suction tool to remove stubborn fat from specific areas, liposuction aims to improve the contours and shape of a patient's body. This procedure is a common part of a Mommy Makeover, but it can also be performed alone or as part of a butt lift, which uses fat harvested from other parts of the body to reshape your buttocks.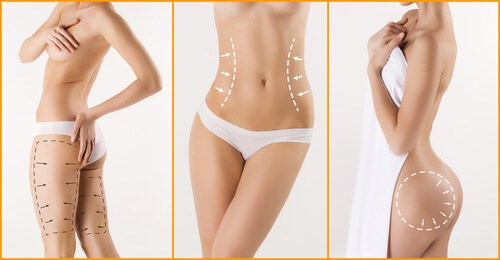 Close to the growth of breast augmentation, liposuction saw an even stronger increase of five percent to the total amount of procedures completed in 2018, bringing the total to 258,558.
RHINOPLASTY
Rhinoplasty commonly referred to as a nose job, has always been one of the most popular cosmetic surgeries. During this procedure, Dr. Mesbahi makes a subtle incision between the nostrils, giving him access to the structure of the nose to make the necessary adjustments.
Despite continuing to be a staple in the industry, rhinoplasty saw a decrease in numbers of 2 percent, with a total of 213,780 procedures being performed in 2018.
MINIMALLY INVASIVE PROCEDURES
---
BOTOX® COSMETIC
As the giant standing above all the other cosmetic surgery procedures, BOTOX® Cosmetic saw around 7.4 million treatments in 2018, nearly five million more than the next largest category. This is an increase of 3 percent from 2017 and a startling increase of 845 percent since 2000.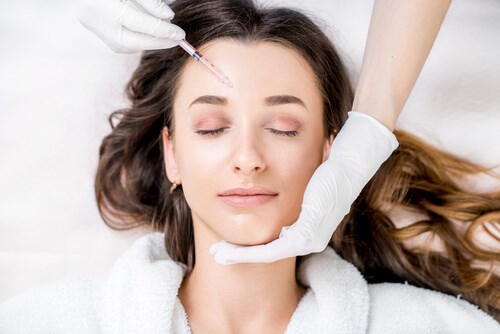 BOTOX® Cosmetic seeks to achieve one specific goal: minimize or eliminate moderate to severe fine lines and wrinkles along the face caused by aging. It is an injectable treatment that is typically performed in 20-minute sessions and uses botulinum toxin type A to prevent muscle groups from contracting around the face, preventing the formation of creases and folds from facial expressions.
SOFT TISSUE FILLERS
There are many different soft tissue fillers on the market, but of the 2,676,970 soft tissue filler procedures performed in 2018, JUVÉDERM® is one of the most popular options.
These treatments aim to boost the volume of lips and cheeks, and they are also effective ways to minimize or remove fine lines and wrinkles around the mouth where natural fullness has diminished with time.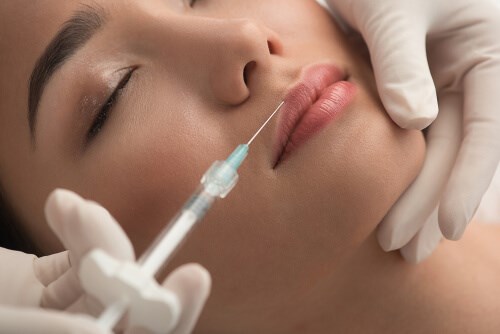 JUVÉDERM® offers four different formulations that Dr. Mesbahi uses for different situations:
JUVÉDERM® XC: Used for moderate to severe facial wrinkles and folds
JUVÉDERM® Ultra XC: Used to add volume to the lips
JUVÉDERM VOLBELLA® XC: Used to treat vertical lines around the lips and restore volume
JUVÉDERM VOLUMA® XC: Used to correct volume loss in the cheeks through deep injections
CHEMICAL PEELS
This procedure uses a chemical solution to address problematic skin texture and tone. The solution removes the damaged outer layers and reveals a fresh, healthy layer once the treatment has been completed. It can treat acne or acne scars, fine lines and wrinkles, sun damage, or patches of skin that have a rough or scaly texture.
Chemical peels saw a 1 percent increase from 2017 to 2018, when a total of 1.3 million procedures were performed. But if you aren't interested in having a chemical solution used on your face to remove layers of skin, you can always opt for laser skin rejuvenation, which uses laser technology to provide similar results.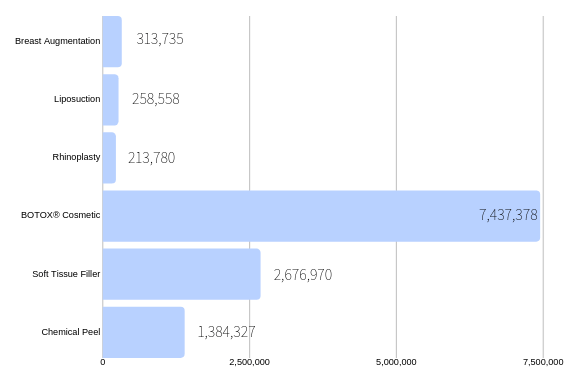 If you are looking to join the millions of people who have attained the body shape or facial appearance they have always wanted, then call Dr. Mesbahi!